WHAT ARE VARICOSE VEINS?
Varicose veins are easily recognised as bluish worm-like cords around the thigh, knee and calf (Figure 1). They are essentially surface veins that have become baggy or dilated, and are often easier to see towards the end of the day but disappear when the legs are raised in bed or on a stool. They are found in around 20% of the population and are a common source of worry and medical consultation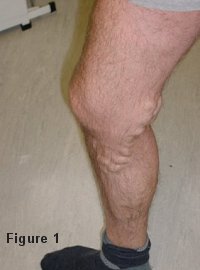 WHAT CAUSES VARICOSE VEINS?
Varicose veins are usually associated with faulty valves within the drainage system of the leg. These valves normally ensure that flow is maintained up the leg against gravity, but when they start to fail the surface veins can be put under pressure and start to enlarge into varicosities. They are more common during and following pregnancies due to the pressure of the baby in the pelvis as well as hormonal changes which relax the vein walls. There may also be a genetic predisposition explaining why varicose veins sometimes "run in the family".
ARE VARICOSE VEINS HARMFUL?
Although varicose veins are often of cosmetic concern, they may cause discomfort and aching or feelings of heaviness, especially towards the end of the day or during periods. Occasionally the veins become thrombosed ("phlebitis", Figure 2) or itch and bleed. In the longer term, if severe and untreated, they may contribute to the development of permanent skin changes such as pigmentation, eczema or even ulceration. They do not cause deep vein thrombosis, either after long flights or journeys.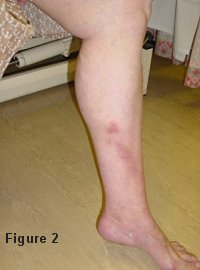 HOW DOES ONE KNOW IF THERE IS AN UNDERLYING VALVE PROBLEM CAUSING THE VARICOSE VEINS?
The anatomy and function of leg veins can be determined by a simple, safe and painless ultrasound examination which takes around 20 minutes. A specialist may also perform venous refilling tests which give additional information about the severity of the condition.